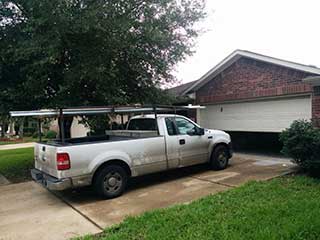 Complex mechanisms require maintenance in order to stay functional, and your automatic garage door is no different. Knowing exactly what needs to be lubricated, adjusted and checked can be complicated, so it's often better to have professionals take care of this for you rather than risk doing something wrong by yourself.
Complete Hardware Inspection
Our technicians start by taking a look at all of the system's different mechanical parts and making sure they aren't looking worse for wear. We'll check the panels for dents and cracks and patch or repair them as necessary. Then we'll move on to the tracks and the rollers, make sure there are no bent sections, rust or wearing. If we find that anything is too damaged to serve its purpose, we'll take care of the track or roller replacement on the spot.
Thorough Spring Maintenance
We pay extra attention to the springs, as they are in charge of supporting the weight of the door and counterbalancing it. We'll make sure there are no deformed coils present and that no strange squeaking noises are heard while the panels are in motion. If we do hear anything, we'll apply some lubrication. Testing the tension of these components is another important focus point of our service, as it allows us to determine whether or not they are functioning optimally. Garage door spring adjustment helps to reduce the working strain of these components, and keep the door properly balanced.
Last But Not Least
The final part we focus on will be the opener. This motorized unit is comprised of both mechanical and electrical components, so some additional attention is required. We'll make sure its circuit board is in prime condition, as is the motor gear and the drive system. Then we'll make sure the auto reverse feature is working correctly, and realign the photoelectric eyes if we find that the door doesn't reverse when it should. Misaligned safety sensors can make the system dangerous to use, so this is a very crucial part of our regular garage door maintenance service.
Book An Appointment Today
It's important that you don't neglect your overhead door and see to it that it receives a proper amount of care and attention, in order to keep it working in the best condition possible. Call Garage Door Repair White Bear Lake today to schedule a maintenance appointment.
Want more? Let us take care of:
Garage Door Tune Up Services
Garage Door Safety Inspections