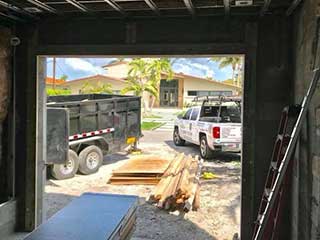 A garage door can offer your home several advantages, including an improved curb appeal and the convenience of automation afforded by smartphone compatibility. But did you know that one of the best ways to reduce your utility bill is to invest in an insulated garage door? It will make it easier for you to maintain the indoor air temperature that you desire, which will make things easier for your HVAC unit, and therefore save you money. This can also make your home more comfortable and pleasant all year round.
The Right Type To Use
When it comes to garage door insulation, there are several materials for you to choose from. Some may be better suited for your needs, so you should carefully consider them all and only then make a decision. Or better yet, consult with our experts.
The Different Ways
One of the most common insulation for doors is the batt type. This is a flexible type of insulation that is usually made of fiberglass and backed with foil or paper, which serve as an air and vapor barrier. Another common type of garage door insulation material is the foam board. These are rigid panels made from polystyrene that provides a high R-value even with little thickness. In fact, a panel that is ½ inch thick has an R-value of 3.3 while a 1-inch thick panel has an R-value of 6.5. Reflective foil insulation is another popular way of insulating garage doors. This material is composed of rigid boards as well as rolls that come with reflective aluminum foil. This type of insulation reflects heat, which is ideal for hot summer weather.
How Do I Choose?
When it comes to finding the right insulation method for your garage door, you have to make sure that you choose the material that matches your climate best. A steel garage door, for instance, can accommodate any kind of insulation. Wooden door panels, on the other hand, require fitting rigid insulation material into the recesses in between their frames. If you wish to have additional climate control, another layer of foam board may be installed. If you have a flat garage door, the best type of insulation to use is the foam board or the reflective foil.
How To Get It Done
It is highly recommended that you hire a professional when you want to add new insulation to your overhead door. Since this type of task involves messing with the panels, it requires a certain amount of skill and knowledge to be executed perfectly. Our experts at Garage Door Repair White Bear Lake can perform this task properly and safely. If you have additional questions, get in touch with us today.